Bilan des VIèmes rencontres ludopathiques
14 - 15 - 16 avril 2000

VIth Ludopathic Gathering report
April 14-16, 2000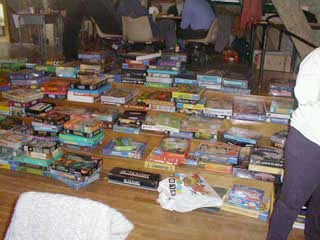 Les vedettes de cette année

Reibach and Co en 1997, Bohnanza en 1998, Tikal et Citadelles en 1999, chaque année il y a un ou deux jeux - souvent des nouveautés - qui suscitent la curiosité puis l'enthousiasme de tous les participants. S'il fallait désigner la vedette de l'année, ce serait sans doute Râ, dont l'unique boite était très demandée, et qui semble avoir eu plus de succès que bien des nouveautés plus fraiches.

Sinon, le top 15 du week-end se compose, sans qu'il soit possible de donner un ordre précis, de:

Andromeda
Buried Treasure
Citadelles
Condottiere
Corruption
Democrazy
Dragonslayers
Evolution
Kardinal und Koenig
Morgenland
Pico
Ra
Tadsch Mahal
Tikal

Et bien sûr, les indétronables Poker et Cosmic Encounter.

Personnellement, je dois dire qu'à l'exception de Kardinal und König et Tadsch Mahal, qui ne m'ont qu'à demi convaincu, tous les jeux de cette liste - y compris les miens - figurent parmi mes favoris. Rien d'étonnant à cela, puisque je ne jouais pas et que chaque fois que des joueurs se demandaient quelle boite ouvrir, ils me demandaient conseil…


Morgenland

Tikal

Tadsch Mahal

This year's hits

Every year, one or two games - most times new ones - are the hits of the week-end. On Friday, everybody is curious about them, on saturday, everybody is enthusiast. It was Reibach and Co in 1997, Bohnanza in 1998, Tikal and Citadels in 1999. Things were not so simple this year, but if there must be a hit, it's probably Râ. There was sometimes a long waiting list for the only one box of Râ. It's not really new, but it was for most players and had more success than most new games from Nurenberg.

However, it's not the only winner. The top 15 of the week-end seemed to be:

Andromeda
Buried Treasure
Citadelles
Condottiere
Corruption
Democrazy
Dragonslayers
Evolution
Kardinal und Koenig
Morgenland
Pico
Ra
Tadsch Mahal
Tikal

And, of course, the usual oldies, Poker and Cosmic Encounter.

Except for Kardinal und Konig and Tadsch Mahal, which are not really amongst my favorites, most of them are games that I like. Nothing really surprising, since I didn't play during the week-end but I was always here to give an advice about what game to try, what box to look for on the shelves.

Les tournois

Mireille Picard et Faby Cazalis ont gagné le tournoi de Corruption. C'est vrai, Faby n'y avait joué… bien qu'elle soit sur la liste des remerciements dans la boite. J'avais mis le nom de tous mes testeurs habituels à l'époque ou j'ai conçu ce jeu, et il semble que Faby n'ait été là que pour les soirées Democrazy.

Philippe "Vinci" Keyaerts et Laurent Marenko ont gagné le tournoi de Condottiere. Oui, je n'ai pas noté le nom du second vainqueur…

Muriel Sitruk a gagné le tournoi de Pierre, Feuille, Ciseaux (et puits).

Les 25 billets affichés dans le hall provenaient des jeux suivants:

Stephenson's rocket
Showmanager
Budujemy Pomnik Stalina
Intrige
Fief 2
Fugger Welser Medici
Acquire
Règlements de compte
Rien à déclarer
Merchant of Venus
Axies and Allies
Iron Dragon
Giganten
Supergang
Footmania
Shark
Top Race
Chinatown
Ascott
Murphy
Jockey
La Patrie en danger
Le Gang des tractions
Junta
Monopoly US

Avec 20 bonnes réponses, c'est Julien qui a gagné le Quizz.


Faby wins the Corruption tournament

Condottiere. The final position

Tournaments

Mireille Picard and Faby Cazalis won the Corruption tournament. It's true that Faby never played before, though she is listed as tester in the box... I've listed the names of most friends who were at my testing parties when I made it, and didn't notice that Faby was always here for Democrazy and never for Corruption…

Philippe "Vinci" Keyaerts and Laurent Marenko won the Condottiere tournament. I didn't write down the name of the other winner, but he'll be added as soon as he tells me…

Muriel Sitruk won the Rock, Paper, Scissors (and Well) tournament.

The 25 bills in the hall were from the following games:

Stephenson's rocket
Showmanager
Budujemy Pomnik Stalina
Intrige
Fief 2
Fugger Welser Medici
Acquire
Don Pepe
Rien à déclarer
Merchant of Venus
Axies and Allies
Iron Dragon
Giganten
Supergang
Footmania
Shark
Top Race
Chinatown
Ascott
Murphy
Jockey
La Patrie en danger
Le Gang des tractions
Junta
Monopoly (US edition)

Julien won the quizz, with 20 right answers.

Les protos

Les créateurs de jeu sont de plus en plus nombreux aux rencontres ludopathiques, qui deviennent l'occasion de mettre des jeux encore en gestation en présence de nouveaux testeurs.

Serge Laget a bien essayé de faire jouer son Charter, mais il avait la maladresse de commencer ses explications par "ça ressemble un peu à 1830", ce qui est un bon moyen de faire fuir les joueurs… Il avait, je crois, des maquettes plus modestes mais était trop occupé à surveiller ses filles - on ne sait jamais - et à encourager tout le monde à jouer à Râ.

Philippe Keyaerts avait amené un jeu de science fiction assez complexe, qui extérieurement ressemble un peu à Titan, et qui n'a pas lui non plus trouvé de joueurs. En revanche, comme d'habitude, Evolution (dont le nom définitif devrait être Dinos) a fait l'unanimité. Je souhaite à ce jeu le même succès que Vinci.

Eibert Engelsman, le hollandais, avait amené une curieuse maquette puzzle. Il semble qu'il y ait une bonne idée mais que le système ne soit pas encore au point.

Philippe des Pallières a présenté ses gazelles, un de mes jeux favoris, et son bizarre jeu de bourse, Lapin, Cochon, Canard. J'ai déjà dû assister à une dizaine de parties tests de ce dernier, sous des avatars variés, et je n'y ai toujours pas joué… Philippe, qui ne perd pas le nord, a fait tester samedi tous ses jeux par Henri Balczesak, le directeur de collection de Jeux Descartes, avant que les autres auteurs ne s'aperçoivent de sa présence…

Pour ma part, j'avais mes maquettes de Bongo et de Castel, qui sortent bientôt, la nouvelle version des mammouths - il paraît que des gens y ont joué, mais je ne les ai pas vus - et deux prototypes encore en phase de tests, Macao et Dragonslayers (depuis rebaptisé Draco). Dragonslayers fut le plus joué, ne serait-ce que parce que j'avais encouragé les joueurs à le tester et mes faire part de leurs remarques. La version sur laquelle je travaille actuellement, la 3.6, devra beaucoup aux suggestions des participants au week-end, avec l'apparition des diamants et de nouveaux objets magiques… Le jeu devrait être l'une des nouveautés des rencontres ludopathiques 2001.


Philippe des Pallières explains Ducks, Rabbits and Pigs

Dinos aka Evolution. A great game.

My last creation: Dragonslayers

Prototypes

Everey year there are a few more game authors at the ludopathic gathering, and it's an occasion for players to discover prototypes, and for game authors to test their games with new gamers, who can bring new and fresh ideas.

Serge Laget tried vainly to get test games of his charter. The main problem was probably with the way he described the game, beginning with "it's a bit like 1830...", which was enough to make most players fly away. He also had, I think, a few more modest prototypes, but he was too busy looking over his two daughters - better be careful - and trying to convince everyone that Râ is the game of the decade.

Philippe Keyaerts had brought a new sci-fi game that, at first look, looks a bit like Titan. This is also not the best way to find testers. On the opposite, Evolution - which commercial name will probably be Dinos - was a real hit, as usual. I hope this game will be as successful as Vinci.

Eibert Engelsman, the dutch man, had a strange puzzle-like game. I've been told that there is a very good idea at the bottom of the game, but that it's still not developped.

Philippe des Pallières had his gazel race, which is probably my favorite race game. I hope this one will, at last, find a publisher. He brought also his strange stock exchange game with rabbits, ducks and pigs. I've probably already seen about ten test games of this one, and I've not yet played it… Philippe cleverly managed to have all his games played by Henri Balczesak, publishing director from Jeux Descartes,who was here on saturday, before any other author realized he was here.

As for me, I had old prototypes of already sold games, Bongo and Castel, the new version of the Mammooths - I've been told it has been played, but I've not seen it -, and two new prototypes, Macao and Dragonslayers (just renamed Draco). Dragonslayers was the most played, mainly because I asked for reports and remarks to improve it. The version I'm now working on, 3.6, will have some new features that were suggested to me this week-end, including diamonds and new magic items. The game will be one of the brand new stuff of the next ludopathic gathering.

Les affaires marchent

Il y a des années avec et des années sans, et 2000 est une année avec, puisque j'avais trois jeux récemment sortis pour le week-end, Corruption, Democrazy et Citadelles, dont j'avais récupéré mes exemplaires la veille, avant même les boutiques. Une fois faits les cadeaux d'usage à tous ceux à qui j'estimais devoir les faire, il me restait donc trois piles de jeux à vendre. Avec Fred Bizet à ma droite et Philippe des Pallières à ma gauche, le dimanche matin faisait très marchand de tapis. Comme le budget du week-end était équilibré avec les inscriptions des joueurs, ce sera la première fois que mes rencontres m'auront finalement rapporté des sous…
Pour la peine, tout le monde a eu un Pico gratuit. Merci Doris et Frank.


That's true: we had Citadels boxes

Business is business

There are good years and bad years. 2000 starts as a good year, since I had three game published just for the week-end, Corruption, Democrazy and Citadels. I got my french Citadels copies just in time, the day before the week-end, before the shops get it. Even after I had given all the games I had to give here and there, I still had three big piles for sale. On sunday morning, with Fred Bizet on my left and Philippe des Pallières on my right, it was like a live action Kuhhandel. Since the budget for the week-end was just balanced with the players registration fees, it's the first time I make a little money with the Ludopathic gathering.
Everyone got a free copy of Pico, thanks Doris and Frank.

Le retour des monstres

En remplissant le camion de jeux, j'avais mis de côté quelques grosses boites - Axes et Alliés, Shogun, Buck Rogers - en me disant: "Cela fait dix ans que je les amène, personne n'y joue jamais. Si le camion est trop plein, je les laisse à Paris". C'eut été dommage. Traditionnellement, le samedi soir, pour lequel aucun tournoi n'est prévu, est dévolu aux gros jeux, le plus souvent Britannia ou Kings and Things. Eh bien cette année, personne n'a sorti Britannia et Kings and Things, et j'ai eu la surprise de voir démarrer vers 9 heures du soir une partie de Shogun et une autre de Buck Rogers. Quoi qu'en disent les inconditionnels des jeux allemands, c'est beau à voir. Le plus surpris fut sans doute Serge Laget voyant trois belges lui sauter dessus en disant "il paraît que tu connais Buck Rogers, tu peux nous expliquer les règles en dix minutes…". J'espère qu'il reviendra quand même l'an prochain.


Ever seen a game of Buck Rogers?

Monsters are back

When piling games into the truck, I set aside a few big boxes - Axies and Allies, Shogun, Buck Rogers. I was thinking "I'm bringing them for ten years now, and noone ever plays them. If the truck is full, I let them in Paris". Happily there was enough room for them.
There's no tournament scheduled for the saturday night, which is usually the time for the few big games. Last years, the hard gamers played Britannia or Kings and Things. This year, nobody played them and I was very surprised to see, at 9 p.m., six players opening Buck Rogers and fice other opening Shogun. Whatever the german games addicts can say, this looks great. The most surprised was probably Serge Laget when three belgian guys asked him to explain them the rules of Buck Rogers in ten minutes. I hope he'll come back next year.

Quelques infos

Comme d'habitude, il a plu. Je ne suis pas sûr que tout le monde s'en soit aperçu.

Il y avait pas mal de nouvelles têtes. J'espère les revoir toutes l'année prochaine.

Qui a mangé les cygnes?

A few more infos

As usual, it rained. I'm not sure anyone noticed it.

There were a lot of new faces this year. Hope I'll see them again next year.

Who ate the swans?