Un jeu de Serge Laget & Bruno Faidutti
pour 3 à 6 joueurs
Disponible en français, anglais, allemand, espagnol, néerlandais et italien
Publié par Days of Wonder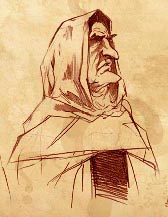 A game by Serge Laget & Bruno Faidutti
For three to six players
French, english, german, dutch, spanish, and italian editions in print
Published by Days of Wonder
Cette abbaye tenue par les hospitaliers est une étape sur les chemins de Saint-Jacques. À votre arrivée, hier au soir, vous pensiez y trouver le calme et le repos. La découverte, au petit matin, du corps sans vie de frère Adelme, en contrebas du monastère, a rompu l'habituelle sérénité des lieux. Comment le jeune frère, aussi agile de pieds que d'esprit, a-t-il pu être entraîné dans pareille chute? Quelqu'un l'a-t-il aidé?
Mystère à l'Abbaye est un jeu d'enquête d'un genre nouveau, faisant part belle à l'intuition autant qu'à la déduction. Les joueurs enquêtent dans une abbaye médiévale, interrogeant moines et novices, feuilletant livres et parchemins, fouillant les cellules et le cloître. Dans une atmosphère recréée avec soin, le jeu est à la fois amusant, captivant et intense. Le matériel luxueux, l'interaction permanente entre les joueurs, le subtil jeu des questions, la dynamique de l'intrigue, font de Mystère à l'Abbaye un plaisir toujours renouvelé.
The peaceful Templars' Abbey is a rare haven of tranquility for road weary travelers. And so you found it when you arrived late last night. That serenity was shattered this morning with the discovery of the lifeless body of Brother Adelmo at the foot of the Monastery's cliffs. Did the usually nimble-footed Brother slip to his death? Or did someone help him in his fall?
Mystery of the Abbey is a new kind of "whodunit" game of deduction and intuition, set in a medieval abbey. Players compete and collaborate to solve the mystery by moving through the Abbey's beautifully rendered board and questioning their brethren. Gameplay is in turn fun, captivating and tense; the atmosphere, vivid; the immersion, complete. Top notch components, constant interactivity between the players, intelligent questioning and dynamic intrigue make Mystery of the Abbey the game of choice for an hour of fun with friends and family alike.