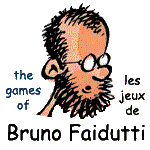 <! *********************************************************************** > <! *** > <! *** MODULE : Mesjeux.brd > <! *** > <! *********************************************************************** >


<! *********************************************************************** > <! *** > <! *** MODULE : me.mod > <! *** > <! *********************************************************************** > <! *********************************************************************** > <! *** > <! *** MODULE : fichier.mod > <! *** > <! *********************************************************************** >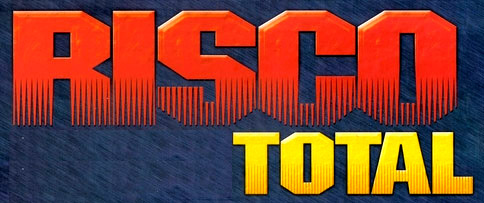 Adventurers in the Temple of Doom
Aventuriers et temples maudits

Le visage encadré d'une barbe de trois joueurs et d'un chapeau de cow boy, la chemise ouverte, colt et fouet à la ceinture, l'aventurier s'enfonce dans la jungle mystérieuse et inexplorée. Échappant aux sables mouvants, aux mygales, aux crocodiles, aux gorilles, aux anciens nazis, aux adorateurs de Kali, aux indiens ivres de peyotl, il découvre enfin le temple maudit, la pyramide mystérieuse, la source du Nil, la grotte oubliée, les mines du roi Salomon.... C'est un beau thème, viril et tout, qui a donné des films très divertissants, et quelques excellents jeux.

Face framed with a cow-boy hat and a three days old beard, half open shirt, colt and whip directly under the belt, the adventurer enters the deep, mysterious and unexplored jungle. After escaping quicksands, tarantulas, crocodiles, gorillas, old nazis, bloodthirsty worshippers of Kali, indians drunk with peyotl, he finds at last the lost temple of doom, the forgotten pyramid, the source of the Nile, the treacherous cave, the mines of King Solomon. it's a great and manly setting, which inspired some enjoyable movies, and some very good games.

Wolfgang Kramer, l'un des meilleurs auteurs de jeux allemands, a publié deux excellents jeux d'exploration. Tous deux sont des jeux stratégiques demandant une certaine réflexion, mais aux règles relativement simples et au thème plus prenant que ce n'est généralement le cas dans les jeux allemands.

Wolfgang Kramer, one of the leading german game authors, has published two excellent middle-weight exploration games. Both are strategic games, requiring some thinking and planning, but have relatively light rules and a theme much stronger than most german games.

Dans Goldland, les joueurs explorent le pays d'Eldorado, sa jungle impénétrable qu'il faudra bien pénétrer, ses villages d'indiens menaçants avec lesquels il faudra bien s'entendre, et finissent par parvenir au temple maudit - il en faut un - dans le coin opposé de la carte.

In Goldland, the players are exploring the land of Eldorado. They find their way through the jungle, stop in indian villages for food and some information, and in the end find the lost temple of doom, at the opposite corner of the map. Goldland went largely unnoticed, in part due to the great success of Tikal, and it's a shame, because both are equally good games.

Tikal, conçu en collaboration avec Michael Kiesling, est sans doute le chef d'œuvre de Wolfgang Kramer. Les joueurs y explorent la cité maya, se déplaçant de site en site, fouillant les temples, exhumant des trésors archéologiques. Le succès de Tikal a sans doute fait un peu d'ombre à Goldland, et c'est dommage, car les deux jeux sont indispensables dans une bonne ludothèque.

Tikal, designed in collaboration with Michael Kiesling, is probably one of Kramer's masterworks. Players control archeologist teams exploring the old maya city, moving from site to site, uncovering the lost temples, finding old statues and jewels.

Dans Quicksand, de Stefano Cavana, les joueurs doivent faire traverser les sables mouvants à leur aventurier pour l'amener, une fois encore, au temple maudit. Toute la subtilité du jeu vient de ce que nul ne sait qui joue quel aventurier, ce qui permet quelques coups de bluff. Ce jeu de parcours de facture assez classique plait beaucoup aux jeunes joueurs

In Stefano Cavana's Quicksand, adventurers must cross the quicksands to find, once more, the lost temple of doom. Since noone knows who is playing which adventurer, this card driven game allows for some bluffing. Quicksand is a race game with a very classical feel, that plays very well with young children.

Les aventuriers de Squad 7, de Roberto Fraga, sont aussi dans la jungle amazonienne, poursuivis cette fois par de féroces indiens réducteurs de tête armés de sarbacanes à pointes empoisonnées. Dans ce jeu d'ambiance et de réflexes rythmé par un CD, quelque part entre Atmosfear et Jungle Speed, les joueurs doivent s'emparer des cartes trésors, courir autour de la table poursuivis par les féroces jivaros, tirer sur les crocodiles avec un pistolet à fléchettes. Bref, une aventure particulièrement mouvementée.

In Roberto Fraga's Squad 7, explorers are, oce more, in the Amazon jungle, chased by bloodthirsty head-reducers indians with poisoned blowpipes. This party game is driven by the evocative jungle music of an audio CD, and feels like a mix between Atmosfear and the Pit. Players must get treasure cards, run around the table with jivaro warriors chasing them, and shoot at hungry crocodiles with a dart pistol.

Dans Destination Trésor, les deux joueurs sont perdus sur une île inexplorée (et cherchent un temple maudit empli de trésors, mais ça ce n'est plus la peine de le dire). Dans cet étonnant jeu d'exploration et de déduction, chacun doit d'abord tenter de se repérer sur la carte, se fiant pour cela aux indications de son adversaire. Dans un tout autre genre, Destination Trésor est tout aussi surprenant que Squad 7.

In a very different style, Discovery Island is as surprising and original as Squad 7. in this game of deduction and exploration, the players are lost on an island, and must first find out where exactly they have landed, before trying to find, hidden somewhere in the deep jungle, once more, the lost temple of doom.

Lost Cities est un élégant petit jeu de cartes pour deux joueurs. Comme souvent chez Reiner Knizia, cependant, le thème est aussi artificiel que la mécanique est astucieuse, et si l'on prend grand plaisir à y jouer, on ne se prend pas vraiment pour Indiana Jones.

Lost Cities is a nice light two player card game. Like with many older Knizia designs, the systems are clever, but the theme feels thin and pasted on. The game makes for an enjoyable gaming experience, but you don't feel like Indiana Jones when playing them.

Surprise ! Il semble qu'un autre jeu sur un thème très proche du notre soit également présenté au salon de Nuremberg. Le Trésor du roi Salomon est un jeu d'Alessandro Saragosa développé par mes amis de Venice Connection... Que le meilleur gagne !

Surprise ! There seems to be another game with the very same setting to be presented in Nurnberg. The Treasure of King Solomon is a game by Alessandro Saragosa, developped by my friends at Venice Connection. Let the best win !

La pyramide de Toutankhamon, hantée par force momies et malédictions ancestrales, est un cas particlier de temple maudit. Dans le Toutankhamon de Reiner Knizia, tout comme dans celui de Stefanie Rohner et Christian Wolf, les archéologues doivent amasser des antiquités, s'efforçant de faire des séries d'objets identiques. Si le premier fait plutôt appel à la tactique, le second repose sur la mémoire. Tous deux sont de bons jeux mais, là encore, on ne se sent pas vraiment dans la peau de l'explorateur.
L'histoire est encore la même dans La Malédiction du Pharaon, de Martin Wallace, auquel je n'ai pas encore eu l'occasion de jouer.

Tutankhamen's pyramid, full of treasures, mummies and old curses, is only a variation on the lost temple of doom idea. In Reiner Knizia's Tutankhamen, like in Stefanie Rohner and Christian Wolf's one, players must collect precious egyptian antiquities. The former reies on tactics, the latter on memory. Though both are really good games, you don't really feel like an adventurer when playing them.
The story is again the same in Secrets of the Tomb, a recent game by Martin Wallace, which I have not played yet.

Le thème est en revanche omniprésent dans La Malédiction de la Momie, un superbe prototype de Bruno Cathala et Thierry Gislette, dans lequel chaque joueur dirige une équipe d'aventuriers explorant la grande pyramide. Bien sûr, il y a des passages secrets, une momie et un gros rocher qui roule. J'espère que ce jeu, qui le mérite, trouvera bientôt un éditeur.

The exploring theme feels much stronger when playing Curse of the Mummy, an outstanding prototype by Bruno Cathala and Thierry Gislette. Each player controls a team of archeologists exploring the great pyramid. Of course, there are secret passages, a mummy and a large rolling rock. I hope this game will soon find a publisher, since it clearly deserves it.

Et pour les collectionneurs et nostalgiques, voici deux vieilleries que certains n'ont peut-être pas oublié. Je n'ai jamais joué à Curse of the Mummy's Tomb, mais je crois me souvenir avoir fait, dans une vie antérieure, une partie de Source of the Nile.

For collectors and nostalgics, here are two oldies that some of you may remember. I don't think I've ever played Curse of the Mummy's Tomb, but I did play Source of the Nile, in a former life.