Après Toc Toc Toc! et Captain Pirate, Smiley Face est le troisième jeu de cartes léger et familial que j'ai conçu en collaboration avec Gwenaël Bouquin. Smiley Face est cependant un tout petit peu plus complexe que les précédents.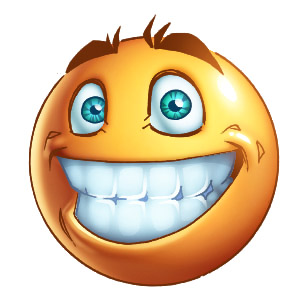 Dans ce jeu pour quatre à huit joueurs, les cartes représentent quatre émotions principales, la joie, la tristesse, la colère et la surprise. Les joueurs jouent leurs cartes pour tenter de suivre l'émotion dominante, ou d'en imposer une autre. Parfois, plutôt que de chercher en vain à s'imposer, il vaut mieux se retirer et apporter son soutien à un autre joueur.
Smiley Face is, after Captain Pirate and Knock Knock!, the third light family card game I design together with Gwenaël Bouquin. Smiley Face is, however, a little bit more complex than our previous games.

In this light game for four to eight players, cards belong to four emotional suits, happiness, sadness, surprise and anger. Players play their cards either to follow the boss suit, either to try to impose another one. Eventually, one must decide when to resign and support another player rather than stay in the race with no chance to win.