Quelques prototypes
Some prototypes
En une quinzaine d'années, les ludopathiques se sont transformées. C'est toujours une rencontre de vieux copains pour jouer ensemble un week-end. C'est aussi devenu une occasion pour les auteurs de faire tourner leurs prototypes, d'en discuter et de les montrer aux éditeurs présents, et pour les éditeurs de voir comment sont reçus certains des jeux qu'ils comptent publier. Je crois que, cette année, près de la moitié des parties jouées durant ces trois jours l'ont été sur des prototypes plus ou moins élégants, plus ou moins aboutis.
Within fifteen years, the ludopathic gathering changed a lot. It was originally just an old friends meeting to play games a few days long. It's still this, but it has also become a place where authors playtest their prototypes, discuss them one with another, and show them to publishers. It's also now a place where some publishers bring the games they want to publish to see how they are received. As a result, I think that almost half of the games played this year were on prototypes.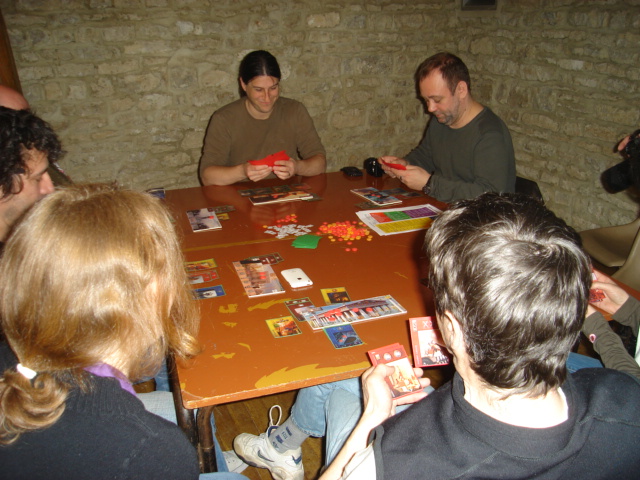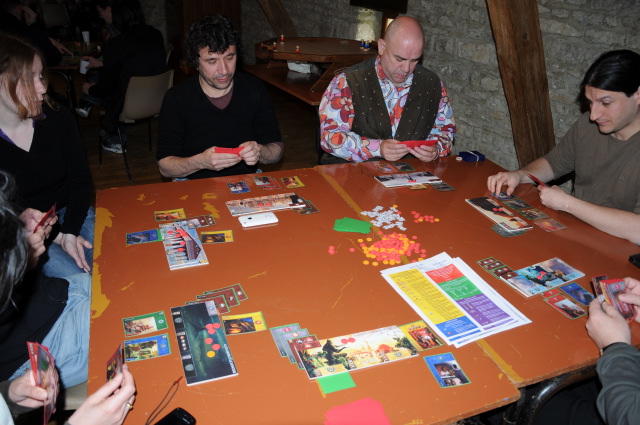 7 wonders, un jeu de cartes d'Antoine Bauza, bientôt chez les belges du Mexique
7 Wonders, a card game by Antoine Bauza, to be published soon by Repos Prod
Serge et moi essayons de vendre Argo à Hicham
Serge and I try to sell Argo to Hicham
Un proto avec de super figurines
Nice looking miniatures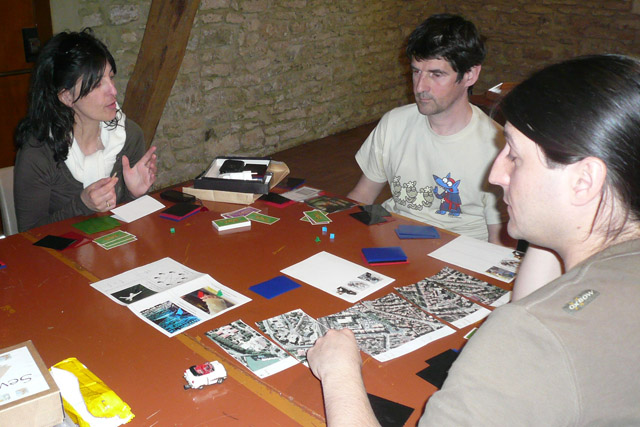 Google Earth, le jeu !
Looks like Google Earth, the Game !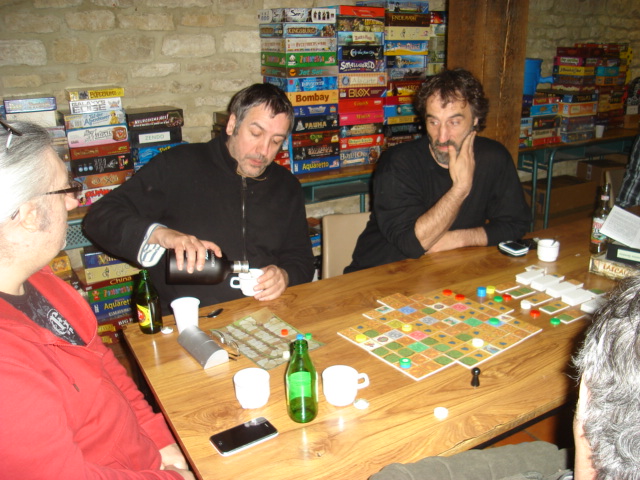 In Nomine Domino
In Nomine Domino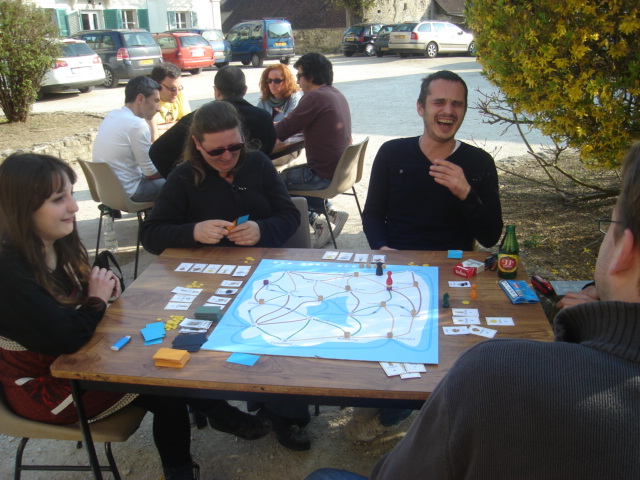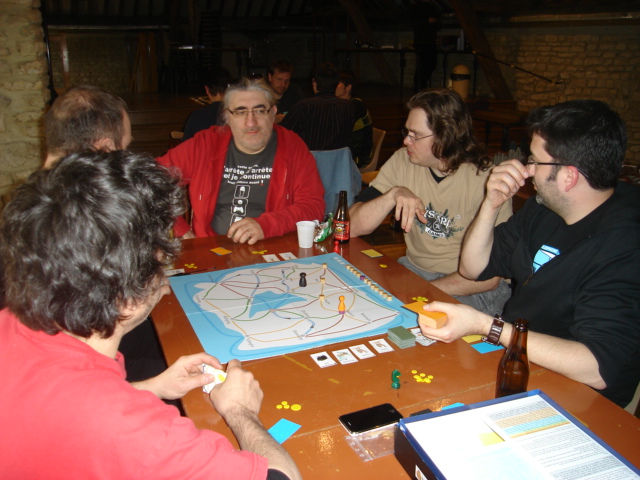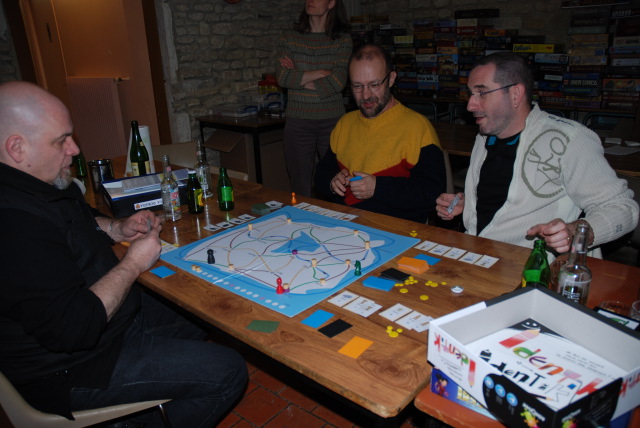 Isla Dorada - j'espérais avoir le joli plateau à temps, mais on a encore joué sur mon vilain prototype
Isla Dorada - I hoped to have the nice board picture in time, but we had to play once more on my ugly prototype.
Mr Jack Pocket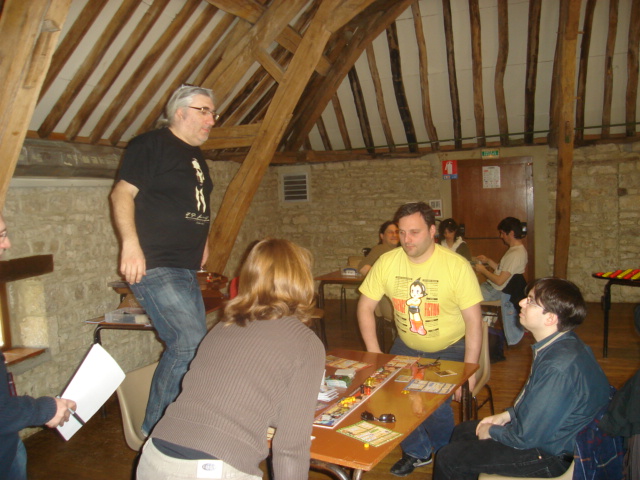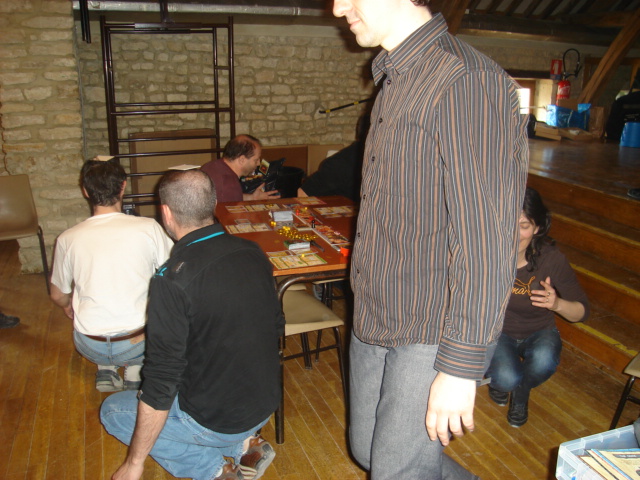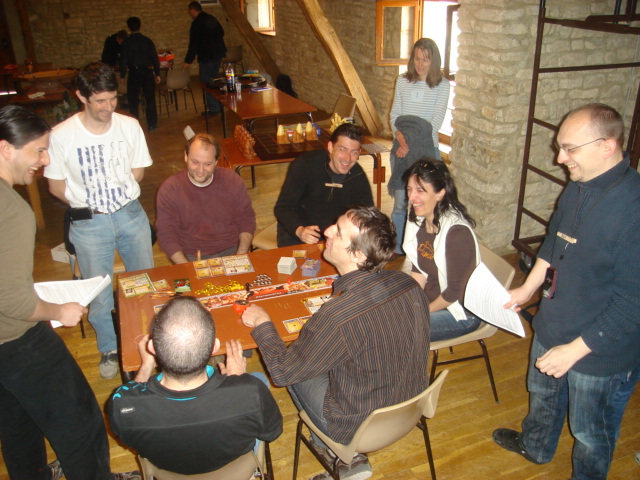 Le Donjon de Naheulbeuk, par Antoine et Ludo, bientôt chez les belgo-mexicains
The Dungeon of Naheulbeuk, a zany game by Antoine and Ludo, to be published by Repos Prod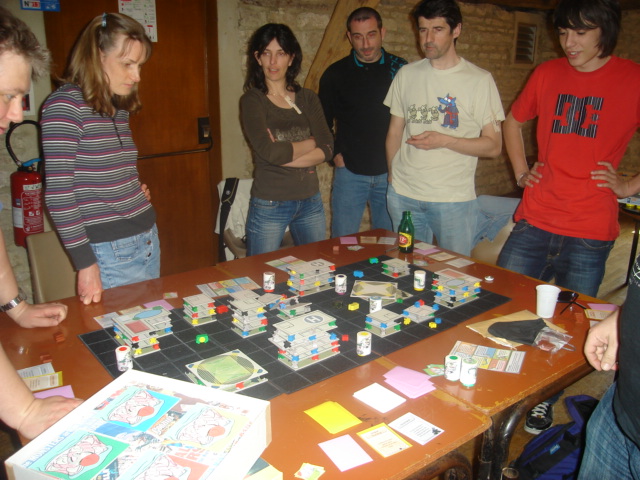 Bon, il n'y a plus qu'à trouver un éditeur…
Now, let's find a publisher…
Sobek, de l'autre Bruno, joué sur une maquette quasi-définitive
Sobek, byb the other Bruno, played on an almost final prototype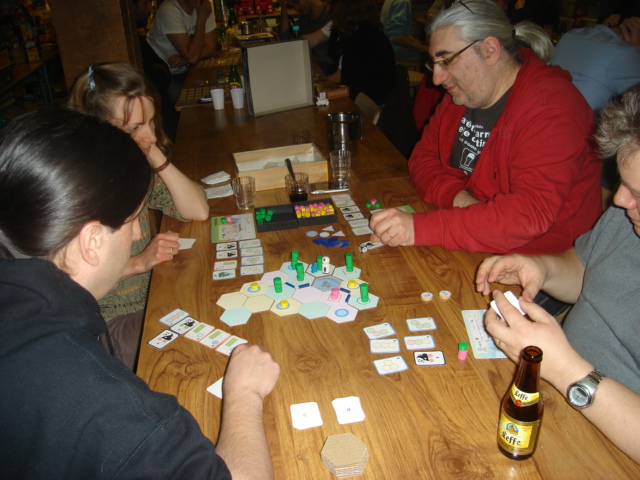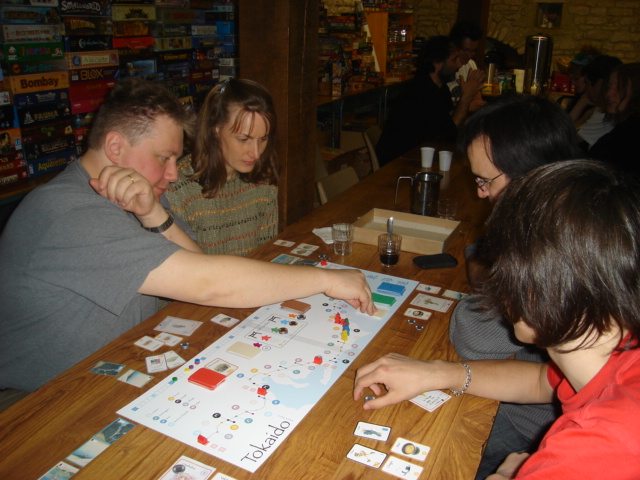 Takenoko, Tokaido, si Antoine changeait un peu d'inspiration, on cesserait de confondre tous ses jeux !
Takenoko, Tokaido… Antoine's games names are confusing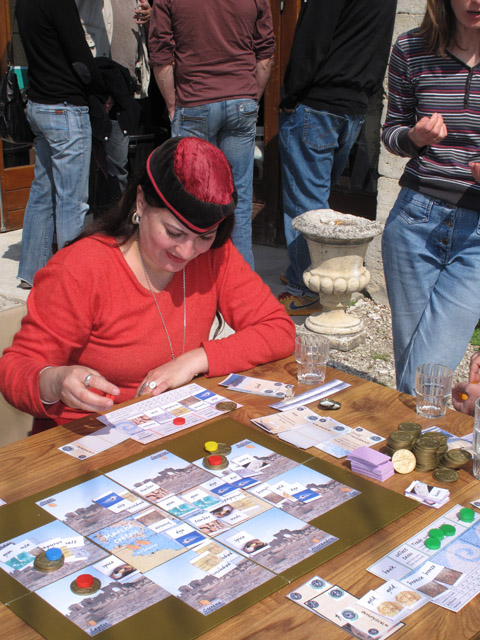 Troc, un prototype de Serge Laget qui a tourné tout le week-end
Serge Laget's Troc was a hit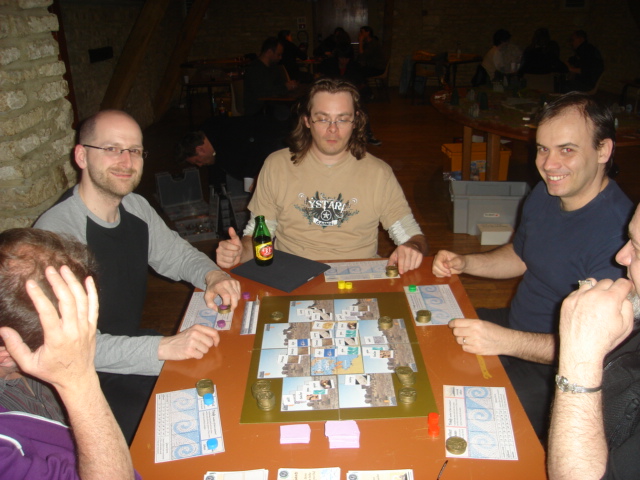 Encore une étonnante fonctionnalité de l'ipad : il peut servir de sous bock
One more iPad feature : it can be used as a beer coaster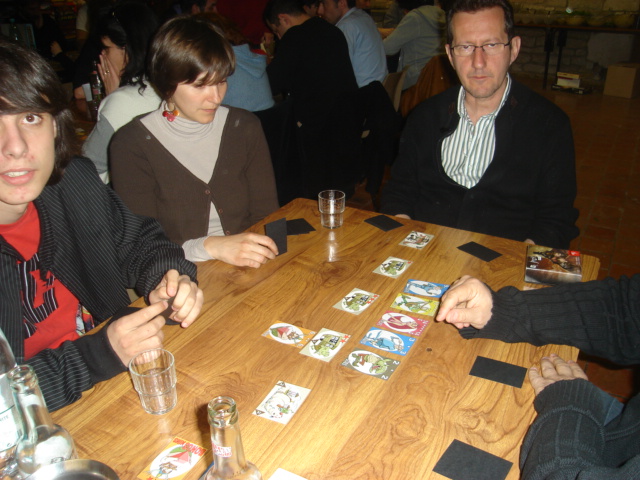 Trollland - un jeu sur le thème de l'identité nationale
Trollland - a game about national identity
Yggdrasil - la couverture de Pierô est superbe
Yggdrasil - with art by Pierô