Prototypes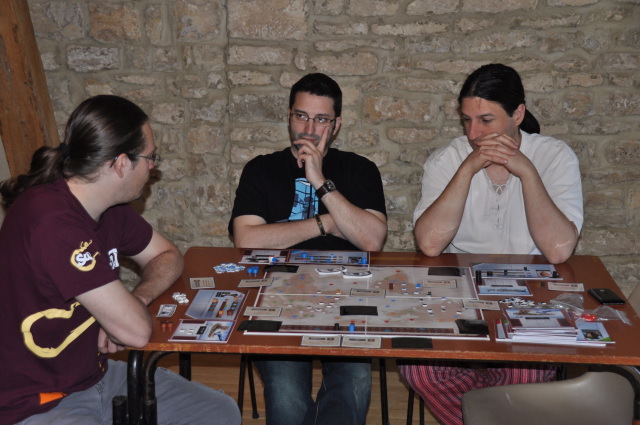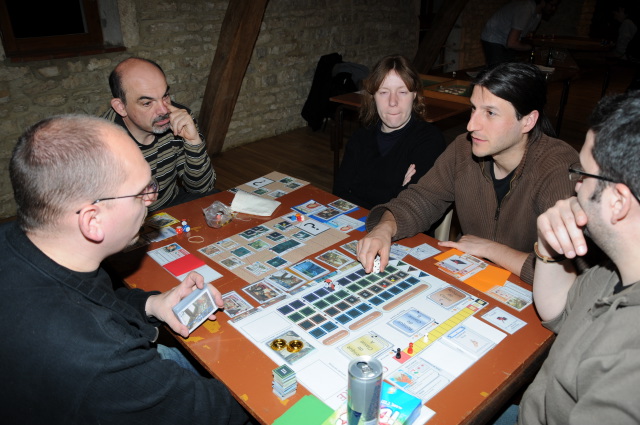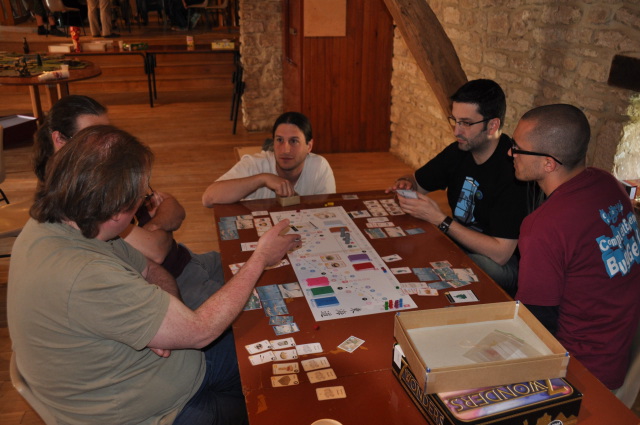 Trois gros jeux d'Antoine. Je crois que je reconnais le dernier.
Three big box games by Antoine. I think I can identify the last one.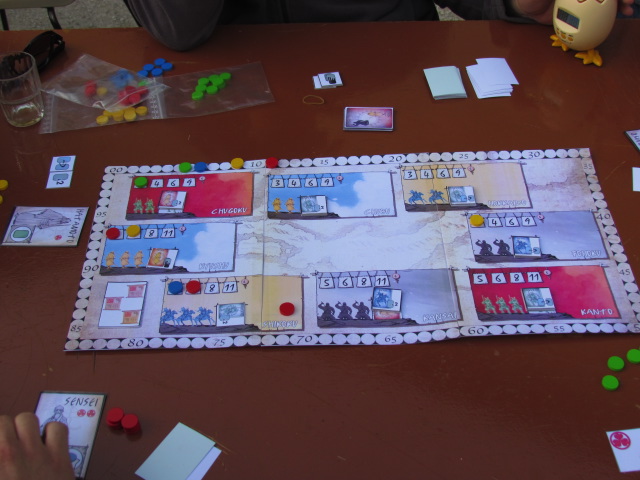 C'est japonisant, ça doit aussi être Antoine
Looks Japanese, it's probably by Antoine as well.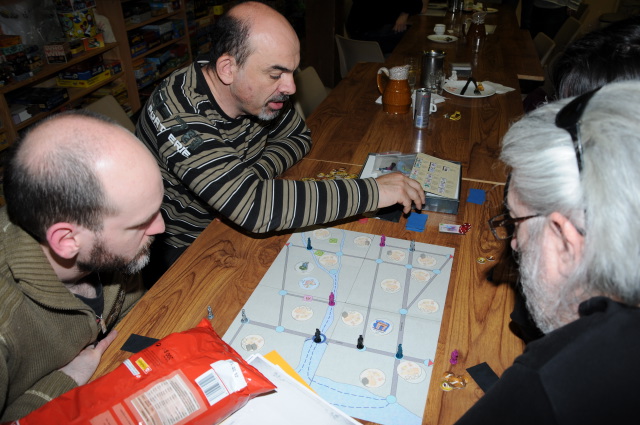 Au hasard : Mr Jack à Venise ?
Let's guess - Mr Jack in Venice ?
Bruno, et quelque chose qui ressemble très vaguement à Carcassonne.
Bruno, and something that vaguely looks like Carcassonne.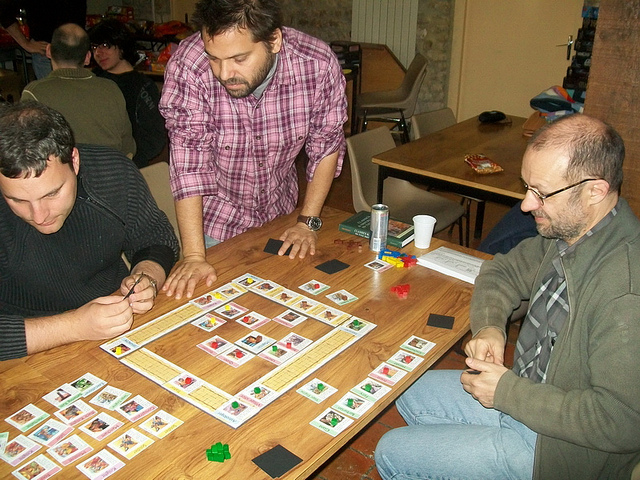 Le grand Castel.
The big Castle.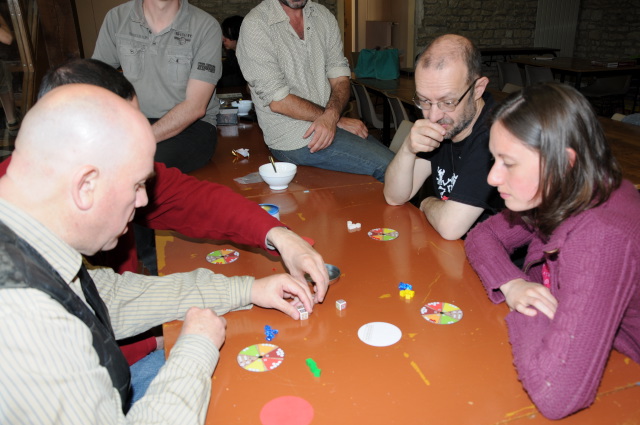 Darts & Dice, l'un des protos les plus joués du week-end.
Darts & Dice, probably the most played prototype.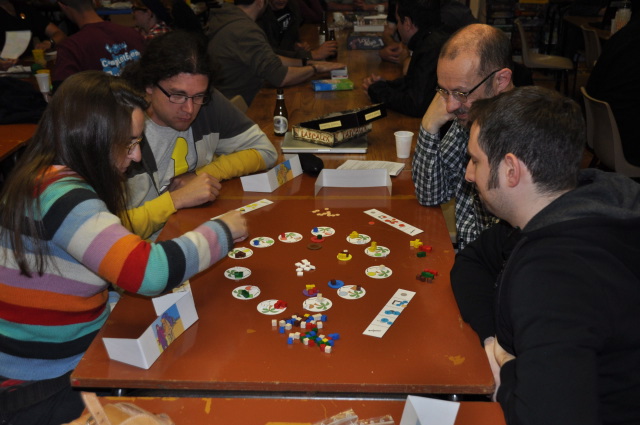 Désespérant de caser Space Pirates, je l'ai transformé en Desert Raiders. On verra si ça marche mieux… ,
When I couldn't sell Space Pirates, I changed it into Desert Raiders - we'll see if it works better.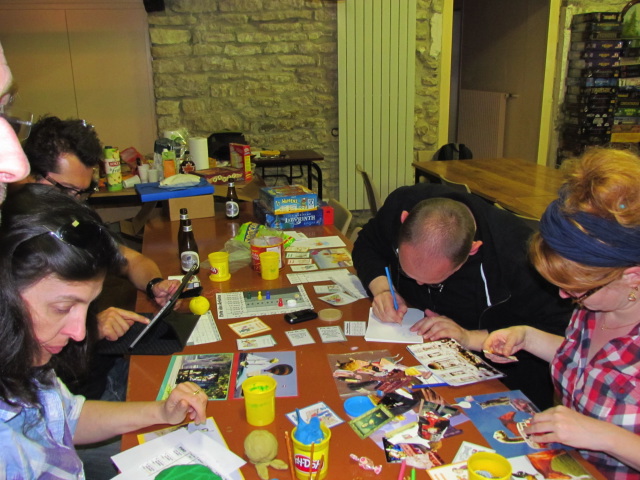 Un astucieux concept de Ludovic Maublanc : le premier jeu pour iPad pour lequel il faut aussi du papier, du carton, des crayons de couleur, des ciseaux et de la pâte à modeler.
A clever concept by Ludovic Maublanc : the first iPad game which also requires coloured pencils, paper, cardboard, scissors and modeling paste.
Un jeu arthurien de Philippe Keyarts .
An arthurian game by Philippe Keyaerts.
Rampage - jusqu'ici, tout va bien.
Rampage - so far, so good.
Quand les monstres attaquent, ça a plus de gueule que dans King of Tokyo.
When monsters are attacking, it looks far more serious than King of Tokyo.
Bientôt chez Repos Prod.
Soon by Repos Prod.
Le Roi des Nains.
King of Dwarves.
Serge prend des notes.
Serge takes notes.
Il n'y a pas de quoi être fier.
No reason to be proud.
Zimden - un jeu déquilibre malin comme tout.
Zimden - a clever balancing game.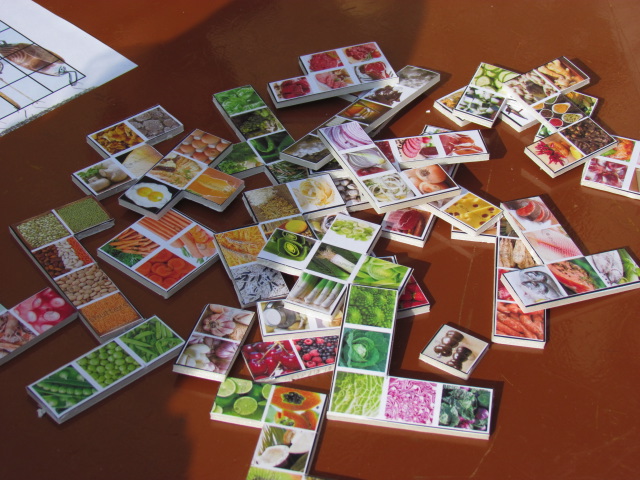 Un truc avec des légumes.
A game about vegetables.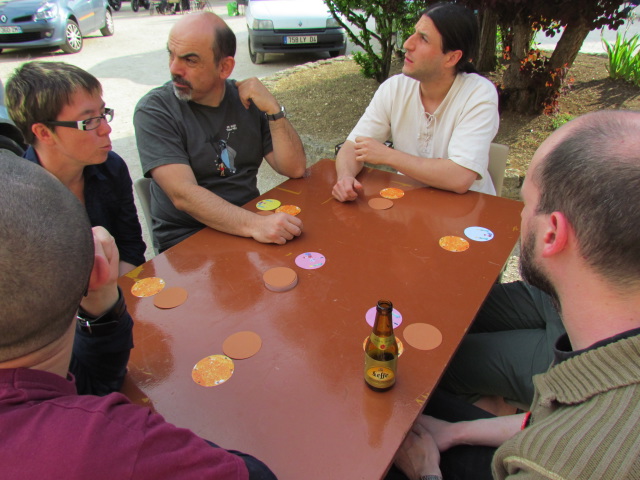 Les cartes rondes, c'est un truc des éditeurs pour embêter les auteurs.
Roud cards are a trick by publishers to bother game designers.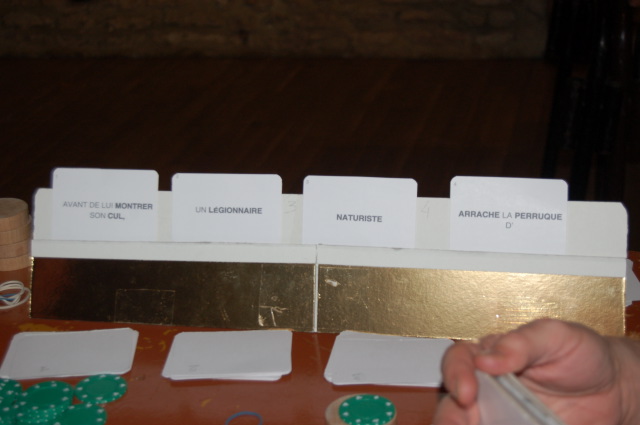 Ça, ça ne peut être qu'un jeu d'Hervé Marly.
This can only be a prototype by Hervé Marly.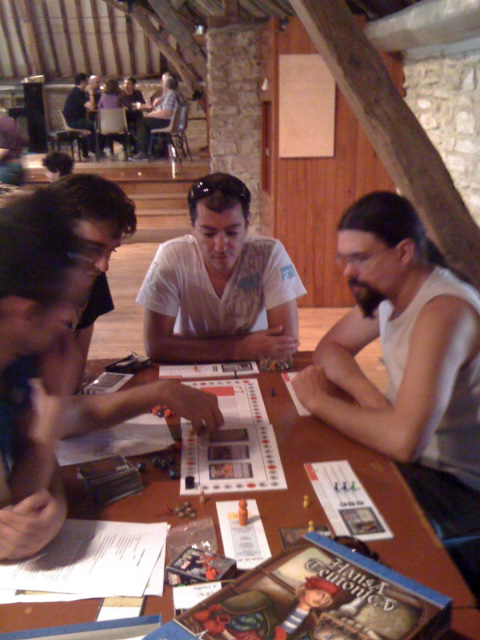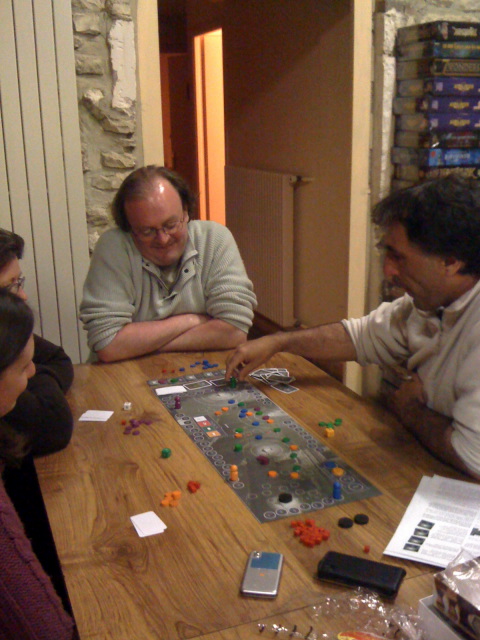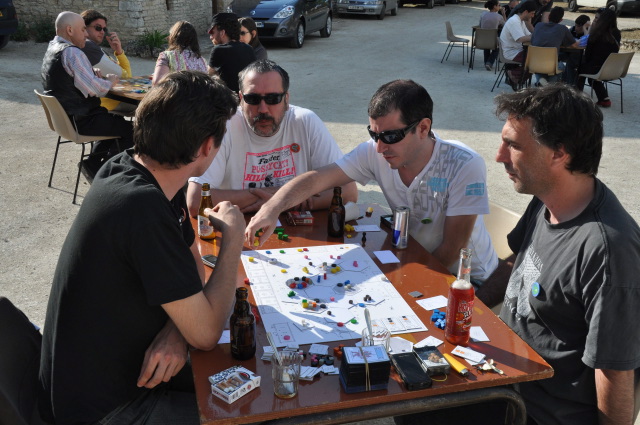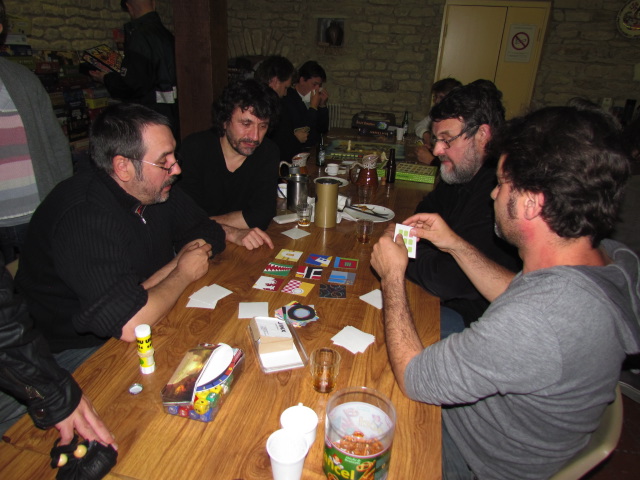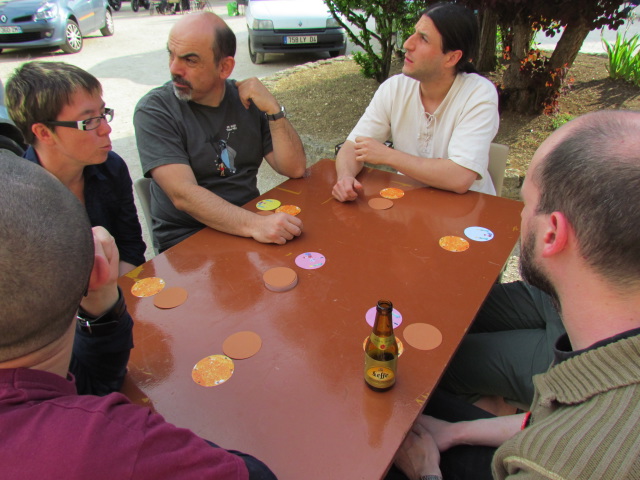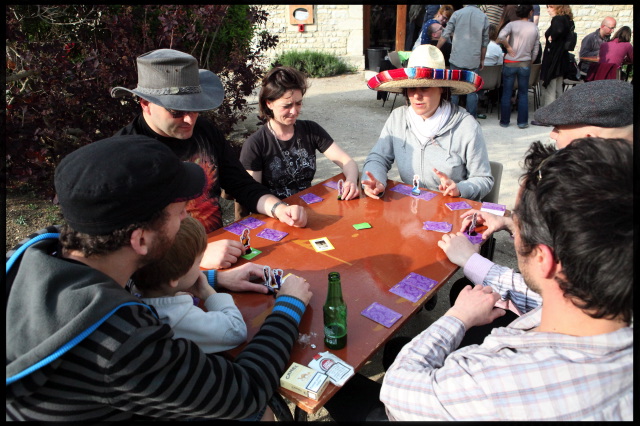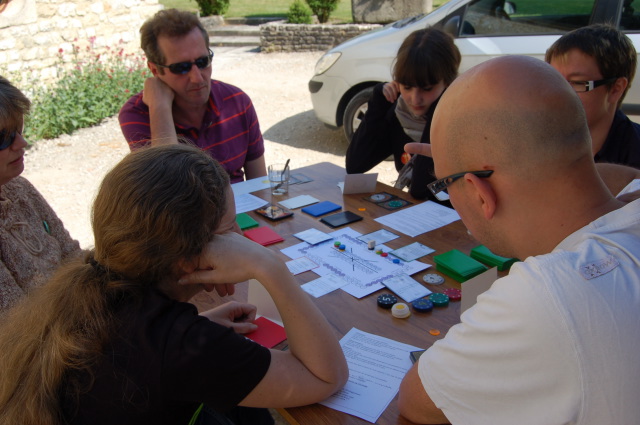 Et plein de prototypes mystérieux sur lesquels je ne sais rien.
And lots of mysterious prototypes of which I know nothing.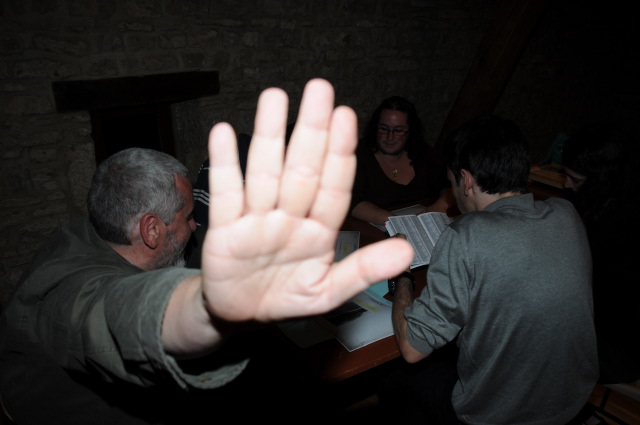 Celui-ci est si secret qu'on ne peut même pas le photographier !
This one is so serious that it cannot even be photographed .